PLEASE SHARE
PART 1/10 VIDEO – INTRODUCTION

[08:35]
In part 1 of the "2028 END" video series Gabriel Ansley Erb introduces the prophetic topic of the time of Christ's return, recalling some of the failed prophecies of recent years … (Learn Here)
PART 2/10 VIDEO – THE GAME OF LIFE

[22:07]
In part 2 of the "2028 END" video series Gabriel Ansley Erb answers the big questions of life, like why did God create planet Earth, why are we here, and what's everything about … (Learn Here)
PART 3/10 VIDEO – CREATION DAY 7

[25:24]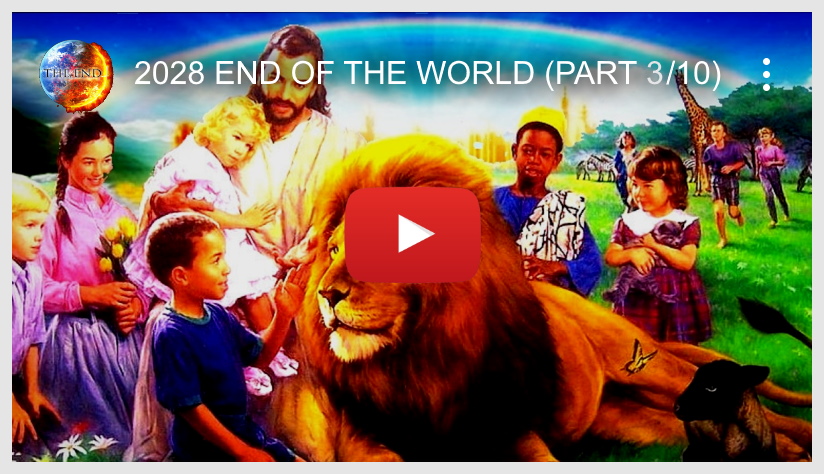 In part 3 of the "2028 END" video series Gabriel Ansley Erb reveals how God prophesied of Christ's 1,000 year Sabbath reign in Creation Day 7, which foretold it will occur Earth's 7th millennium … (Learn Here)
PART 4/10 VIDEO – CREATION DAY 1

[19:33]
In part 4 of the "2028 END" video series Gabriel Ansley Erb reveals how God prophesied of Adam & Eve's fall in Creation Day 1, which foretold it would take place Earth's 1st millennium … (Learn Here)
PART 5/10 VIDEO – CREATION DAY 2

[29:00]
In part 5 of the "2028 END" video series Gabriel Ansley Erb reveals how God prophesied of Noah's Flood in Creation Day 2, which foretold it would take place Earth's 2nd millennium … (Learn Here)
PART 6/10 VIDEO – CREATION DAY 3

[33:54]
In part 6 of the "2028 END" video series Gabriel Ansley Erb reveals how God prophesied of Moses & Red Sea Parting in Creation Day 3, which foretold it would take place Earth's 3rd millennium … (Learn Here)
PART 7/10 VIDEO – CREATION DAY 4

[33:21]
In part 7 of the "2028 END" video series Gabriel Ansley Erb reveals how God prophesied of John the Baptist & Jesus Christ in Creation Day 4, which foretold they would live and die during Earth's 4th millennium … (Learn Here)
PART 8/10 VIDEO – CREATION DAY 5

[35:51]
In part 8 of the "2028 END" video series Gabriel Ansley Erb reveals how God prophesied the coming of the Holy Ghost (Pentecost) in Creation Day 5, which foretold it would arrive Earth's 5th millennium … (Learn Here)
PART 9/10 VIDEO – CREATION DAY 6

[35:40]
In part 9 of the "2028 END" video series Gabriel Ansley Erb reveals how God prophesied of Antichrist in Creation Day 6, which foretold he will enforce the Mark of the Beast Earth's 6th millennium … (Learn Here)
PART 10/10 VIDEO – GOD'S 7 FEASTS

[38:35]
In part 10 of the "2028 END" video series Gabriel Ansley Erb reveals the prophetic truth behind God 7 Feasts, which reveal the meaning behind the phrase "no man knows the day or hour" … (Learn Here)
WELCOME TO

2028 END
CHRIS –
Your video series is absolutely wonderful. I have never seen so many parallels pointed out so well. Having read the Bible and then seen this series made it super easy to understand. When reading the Bible with the help of the Holy Spirit guiding you, you naturally start to see how everything points to prophecy.
SERGE –
I recently found your YouTube Channel and quickly caught up about your Ministry and the message you are trying to spread about the return of Jesus Christ. Needless to say, I was wry at first because you are not the first to say you know when Jesus will return. But after watching your 10 part video series on the subject, I realized that your voice could be the one Jehovah God wants people to listen to, because in my 20 years as a Christian, I have learned to recognize how He speaks and to read His signs, so ignoring the prophecies He left in the Bible that you were able to uncover is impossible for me now. In short, I am saying that I believe I would be a fool to ignore something this significant.
JEFF –
I just loved listening to the 10 videos. So well done and the concept is spot on. God bless you for all the effort you put into this project!
CLINTON –
Hello Gabriel, Thank you for opening our eyes to the hidden messages in the Bible for this last generation. I truly believe what you are saying in your efforts to wake people up to the truth of our world and that there is only one God and Saviour our Lord Jesus Christ. The events happening in today's world are truly Biblical and unmatched by any other religion or book. Thank you for everything you're doing for God's people. God bless you and those around you!
CHRIS –
Please know that I am so grateful for your work. I was far away from god and your perfect prophetic Biblical analyses are the only thing in a million years that could have ever brought me back.
NICOLE –
Hi Gabriel, I just finished your amazing YouTube 2028 END ten part video series and ordered 2 books from PayPal. I spent the whole night watching your videos and I am a bit sleepy. But I could not stop until the end. I want to read more, and I will give one book to my son. Thank you for your excellent work!
CHALITHA –
Hello, Mr Gabriel, I have been looking at your YouTube "2028 End" and also have your book, and I would like to say God bless you, good sir! You truly opened my eyes! So now I'm telling people, everyone that I can, that Jesus is coming! There's no other time then now to get right with God. Thanks so much for your YouTube and website, for it was God Himself that directed me to your message. Thank you sir, and God bless you. People need to know Jesus is coming and very soon!
RAY –
Hi Gabriel, I have just this week watched your 10 part series on YouTube, 2028 END OF THE WORLD. A fantastic and well presented piece of God's work in an easy to understand manner. Fantastic work spreading the truth and wisdom of God. God Bless.
THOKOZILE –
Dear Gabriel, last week my friend commented about how she'd be joyful to know the timing as per Abba Father's calendar. I didn't respond openly, but I knew I was going to search for answers. As grace would have it, searching for 7000 year creation or master plan I found your site. I have yearned to know our FATHER's timeline anytime. And, thank you for being the spokesperson in these day to us, me especially. Questions I had are close to being answered. The fulfilled prophecy is amazing. You're a star!
2028 END BOOK
"Undeniable Biblical ProofJesus Christ Will Return To Planet Earth Exactly 2,000 Years AfterThe Year of His Death"
(Written by: Gabriel Ansley Erb)
VISIT BOOK'S WEBSITE HERE